Log in to Gmail and click on icon at top right, which is similar a gear, and select label "Settings" from the menu that opens.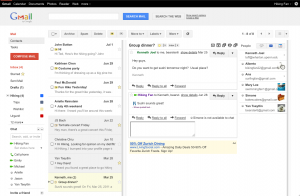 Now click on the tab Labs, and scroll the list of experimental features available in Gmail until you see the "Preview Pane".
Tick ​​the Enable option on the Preview Pane.
Click the "Save Changes" button (bottom of page) to save the changes and enable the new function.
Return to the homepage of Gmail clicking on the logo in the upper left corner of Dmail.
Click on Enable / Disable split pane, that appeared at the top right to see the new preview pane.